Just in time for the new moon that marks the Jewish New Year, I am very proud to announce the release of my new album: "Friends On The Moon".

Arnon Palty and I each wrote 5 tunes, and we assembled the dream team of master pianist Donald Vega and master drummer Byron Wookie Landham to create what I believe to be a musical offering worthy of your precious ear-time.
Guitarist and composer Dan Adler has been active on the New York jazz scene for over 20 years since his arrival from Israel. He has played and recorded with Steve Grossman, Bob Berg, Grant Stewart, Joey DeFrancesco and others. This is Dan's third album as a leader. His previous two albums "All Things Familiar" with Grant Stewart and "Back To The Bridge" with Joey DeFrancesco were highly acclaimed.
Dr. Arnon Palty is an award winning composer, arranger, bass player and jazz educator from Israel. He has performed with Dave Liebman, Lee Konitz, Phil Woods, Benny Golson, Airto Moreira, and others. Arnon leads his own Big Band and a Funk/Fusion group called "Plutonium". He recently released an ensemble album and a Big-Band album with Dave Liebman.
Pianist Donald Vega was classically trained in his native Nicaragua. He graduated from the Manhattan School of Music and the Juilliard School in NYC. He tours the world with Ron Carter and Russell Malone, and has recorded several albums as a leader.
Drummer Byron Landham hails from Philadelphia where he is an adjunct professor of music at Temple University. He has toured with Betty Carter, Joey DeFrancesco, Pat Martino and others, and has appeared on over 50 albums.
Album and Track inspiration notes
The compositions and concept of the album were shaped jointly by Dan Adler and Arnon Palty, who collaborated on a previous album called "Arty Facts". They each wrote 5 original compositions, some based on jazz standard tunes, and some with original chord changes.
The album's title song "Friends On The Moon" by Adler is a medium tempo, inspired by the chord changes to two jazz standards: "Just Friends" and "How High The Moon". Dan takes the first solo, followed by Donald and Arnon.
Arnon's "House Is What" opens with an improvised duo chorus by Adler and Vega. The title of the song pays homage to Tadd Dameron's "Hot House" which itself is based on the standard "What Is This Thing Called Love". Dan solos first, followed by Donald and Byron.
Adler's "Deep Blue Waltz" opens with guitar and piano stating the melody. Dan takes the first solo, followed by Donald before returning to the melody.
Palty's "Let's Stay Warm" is inspired by Monk's "Let's Cool One". The melody is stated in unison by guitar and piano. Arnon takes the first solo, followed by Dan and Donald, whose solo evokes his deep admiration for Monk.
"I Just Did" was written by Dan, inspired by the chord changes to Sonny Rollins' "Why Don't I", but with a Latin twist. Everyone solos on this happy groove in the order of: Dan, Donald, Arnon on fretless bass, and Byron.
Arnon's "Shiny Dolphins" takes its inspiration from two very different jazz classics, "Shiny Stockings" (made famous by the Count Basie orchestra) and Herbie Hancock's "Dolphin Dance". Dan takes the first solo, followed by Donald and Arnon.
Adler's "Forget Me Not" was inspired by the chord changes to "I Remember You" and is presented here as a Samba. Dan and Donald take solos, and then Byron solos on the fadeout.
Arnon's "Oat and a Boat" is the only ballad on the session. Donald takes the first solo, backed by Arnon's responsive double bass and Byron's sensitive brushes. Dan and Arnon then solo before returning to the melody.
Dan's "It's Fine", inspired by the chord changes of the Gershwin classic "S'Wonderful", is an up-tempo where Dan takes the first solo, followed by Donald. They then trade fours with Byron before returning to the melody.
Arnon's "Sweet Yardley" in inspired by the chord changes of Charlie Parker's "Yardbird Suite". It is taken at a medium tempo, with Donald Vega taking the first solo followed by Dan and Arnon.
Friends On The Moon excerpts on Spotify
Ido Siman Tov took some great pictures and video clips, so I present you here with a video preview of some of the songs and behind-the-scenes look at the studio.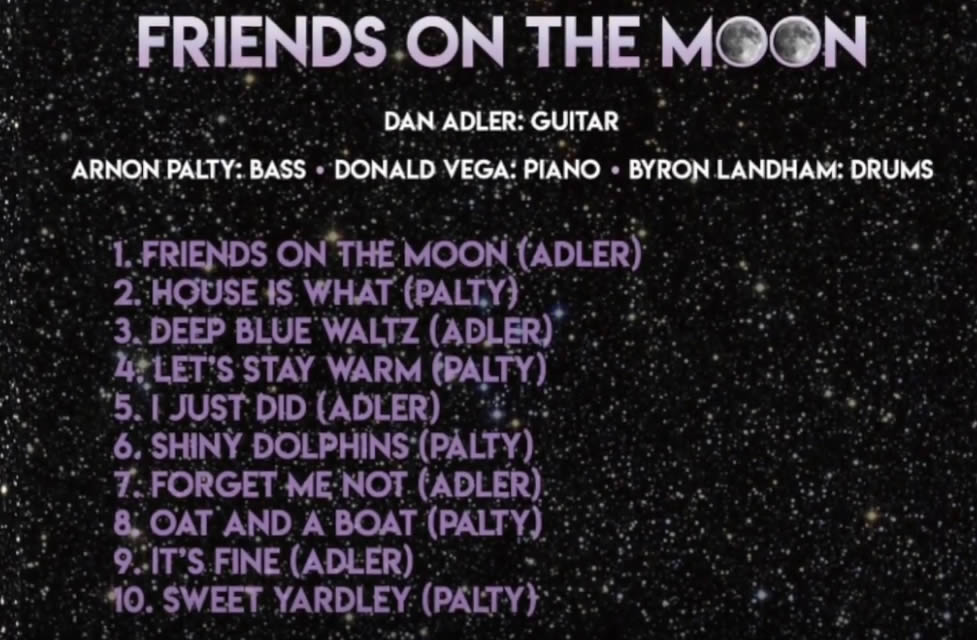 Currently, the album is available digitally on Spotify, Amazon Digital Music and CD-Baby and Apple Music. I hope you enjoy!
Recorded at Kaleidoscope Studios, NJ, Feb 18 2018
Engineer: Kyle Cassel
Mastering: G&J Audio
Cover Art: Talia Adler
---
I am so thrilled and humbled by this wonderful review by Marc JazzWax Myers. So grateful to my friend and partner in creating this album: Arnon Palty, and to the stunning musicianship of Donald Vega and Byron Wookie Landham. Looking forward to our CD release celebrations in February (details forthcoming)?
December 19, 2018
---